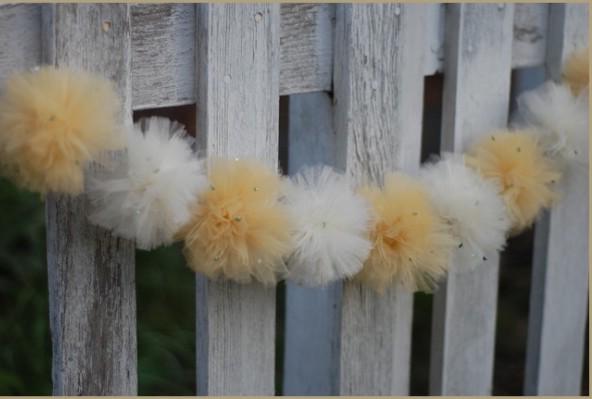 DIY tulle pompons
DIY tulle pompons
<!— handmadebase - 5 —>
<!— handmadebase - 6 —>
It's not customary to use it to decorate a summer residenceexpensive garden figures and complex decorative elements due to the fact that in the winter no one lives in the country, but someone else can get in. But you can decorate the cottage with something simple, for example, make just such a pendant on a fence made of old tulle and thread.
We make pompoms from tulle with our own hands Materials
Tulle
Wire
Sequins or rhinestones for decoration
Fishing line
Cardboard
Glue and scissors
Instruction 1. We wind the tulle on a cardboard. 2. Carefully remove from the cardboard, trying not to break the layers 3. In the center we tie the tulle with wire 4. We cut the edges of the tulle with scissors 5. Gently pull the tulle to the center, forming a volume pompom 6. Scissors cut the excess so that an even ball remains 7. Glue sequins and rhinestones 8 We make some of these pompons and put them on a fishing line
Instructions on how to make a pompom out of tulle Our pompom pendant is ready - you can decorate a country fence with it, hang it in the garden or dress up trees and walls of a country house. Good luck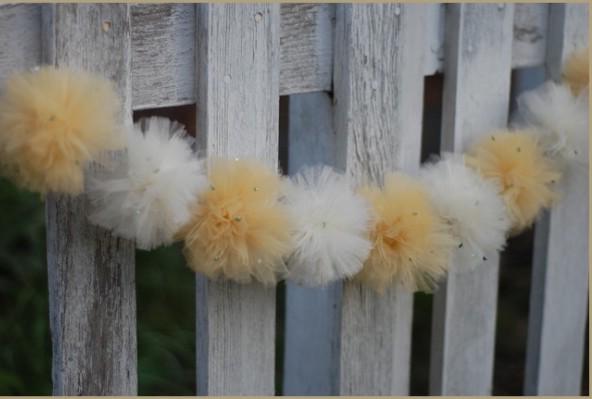 Lovely ball pom-poms for cottage decor
Do you like the article? Share on social networks!
<!— handmadebase - 4 —>
Comments
comments